What are the Suitable Floor Coverings for Hydronic Heating
Slab Heating certainly has many benefits, however, understanding which is the best floor covering for hydronic heating is an important topic to understand before you make your floor covering selection.
In this article, we hope to give you a greater understanding of what floor coverings are suitable for slab heating, and which are not.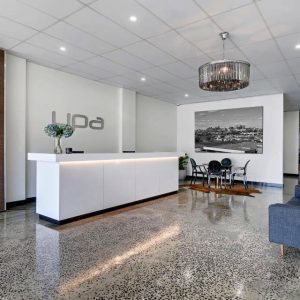 Polished Concrete and Slab Heating
Polished concrete is an ideal finish for slab heating. The concrete is the direct conductor of the heat energy that is transferring into your room and this is how you will get the full benefit of the slab heating system. We request that the thickness on top of the pipe is higher at around 70mm to prevent any hairline cracking. As all other floor coverings will hide any hairline cracks we request only around 50mm on top.
We recommend Policrete – Concrete Polishing Company
Tiles with Slab Heating
Porcelain and Ceramic Tiles are great conductors of heat energy and are therefore a recommended floor covering for slab heating. As they are covering the slab and therefore will hide any hairline cracks, we can install the pipes with only 50mm between the slab surface and top of the slab heating pipe.
Natural Stone Flooring with Slab Heating
Natural Stone Flooring such as marble, granite and terrazzo are really good conductors of heat energy. Remember the heat that radiates from large stones at a beach on a hot summer evening? This is an example of radiant heat being released slowly over a long period even though the sun has long set. This is exactly what hydronic slab heating replicates and why we recommend natural stone flooring with hydronic heating.
Engineered Timber Board with Slab Heating
Engineered Timber board is ideal for slab heating. Similar to laminate flooring the manufacturing process gives engineered board a stable and strong base that won't react to the heating. The top dress layer is available in a wide range of finishes to match any natural timber or bamboo.
Warranty's on Engineered Timber Board
European manufacturers of engineered timber have many ranges that they will give a warranty on when installed with hydronic slab heating. Havwoods stocks many of these, and can provide warranty documents and installation guides.
Laminate Flooring with Slab Heating
Laminate Flooring is manufactured by laminating layers of wood together in opposite directions. The laminate process gives it far more strength and stability than the same thickness of natural hardwood and is why we recommend it as a suitable floor covering for hydronic floor heating. We highly recommend that you check that the manufacturer will warranty a laminate with a heated floor and if special installation requirements are needed.
Carpet Flooring with Slab Heating
Carpet is a suitable floor covering for slab heating as long as the carpet underlay is suitable for heated slabs. Also, be aware that it doesn't conduct heat energy so it won't feel warm to the touch. The radiant heat will still warm your room as it will travel through the underlay and carpet. So the carpet is suitable but these two things need to be taken into consideration.
We Recommend Don Currie Carpets
Vinyl, Hardwood and Floating Floorboards with Slab Heating
Floating floorboards, natural hardwood and vinyl are not suitable for slab heating. This is because when the heat is introduced, it will react by bending, bowing and moving. Vinyl may discolour and the heat may work against the glue. Consider using a different floor covering as described above.
Caution: Always Consult your Flooring Supplier
Always consult your flooring supplier as to whether your chosen product will remain under warranty when installed onto a hydronic heated slab floor. This will give you peace of mind in choosing the best flooring for hydronic heating.
If you have any questions please write them in the comments section so that we can help you and others with similar questions into the future.